---
From 1st January 2021 the rules has changed for EU citizens visiting, working or studying in the UK.! Newcomers need to apply for a Work Visa or in some cases a Student Visa.
Read more about it here
---
If you are looking to book a flight to/from London, there are many websites you can use to compare ticket prices of with different airlines.
Hand luggage rules
Travelling with liquids
Forbidden items
Tickets
Well known sites:
---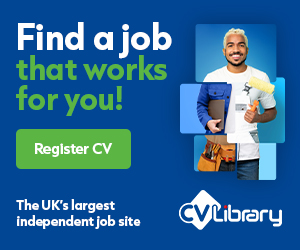 ---- Advertisement. ----
Are you looking for a job in London or in the UK?
Upload your CV at CV Library and start browsing amongst thousand of vacancies.
---
You can also look up prices on airline's website. Here are some European airlines:
Ryanair, EasyJet, Jet2, Flybe, Eurowings, Vueling, Brussels, Wizzair, British Airways, Lufthansa, Iberia, Alitalia, Swiss flights, Finnair, Norwegian, KLM,  Air France, LOT.
Seats are usually allocated by the airline, but you are able to choose your preferred seat for a fee of around £2 – £30. There are many extra services available for example: Extra luggage £20 – £50, Priority Boarding £6 – £26, Fast track security check £3 -£7, Airport Lounges £15 – £70, Fast track passport check £5 – £20 (some airports).
Hand Luggage
Before travelling you should check the airlines rules for what size hand luggage you can bring. You should also check the rules for bringing electronic devices with you on the plane – Different countries have different rules for this. If you bought your ticket a long way in advance, then it is definitely worth checking the luggage restrictions for the airline you are travelling with. Many people get caught out by the luggage rules, especially since the rules change frequently.
Travelling with liquids – Security check
If you have any liquids on you, you can place them in your checked luggage where you can take as much as you like. If you have hand luggage only, there are some rules about the liquids you can take through the security check. Once you have passed through security you can buy anything and take it with you on to the aircraft.
Each person can have 1 plastic bag only. You must show the bag when you are at the airport security. Containers must be kept in a transparent, resealable single plastic bag which must hold no more than 1000 ml in total and the size must be 20 cm x 20 cm. The maximum amount of liquid you can have in a container is 100 ml. The bag must be able to be sealed properly (Items must be able to fit properly).
Any of the following items are classed as a liquid:
Drinks, including water
Liquid/ Semi-Liquid foods e.g. honey, syrup, jams, soups
Toiletries and cosmetics e.g. mascara foundations, lip-gloss, perfumes, lotions, oils, creams.
Sprays e.g. deodorants, hairspray, shaving foam
Pastes e.g. toothpaste
Gels e.g. shower/bath gels, shampoo/conditioner
Contact lens solution
Any items with similar consistency
The following items are generally forbidden/ restricted to take on any flight
You cannot bring the following items:
Guns, Firearms or similar weapons
Pointed/edged Weapons & Sharp Objects
Blunt Instruments: any blunt instrument capable of causing injury, this includes some sporting equipment such as tennis rackets and baseball bats
Explosives and flammable substances: any explosive or highly combustible substance which poses a risk to the health of passengers and crew or the security/safety of the aircraft or property.
Chemical and Toxic Substances: any chemical or toxic substances which pose a risk to the health of passengers and crew or the security/ safety of the aircraft or property
You cannot place the following items in your checked baggage:
Electronic cigarettes
Explosives, including detonators
Lithium-ion battery operated vehicles (including segways & hover-boards) other than wheelchair/mobility equipment that complies with the airline's regulations.
Lithium-ion powered Personal Electronic Device (PED) e.g. IPAD/Tablet/mobile phone
Firearms including replica or toy guns of all types
Gases including propane and butane.
Flammable liquids
Oxidisers and organic peroxides
Toxic or infectious substances
Corrosives
Edible Oil (e.g Olive oil) exceeding 1 litre in volume
Any sharp objects in Checked Baggage should be securely wrapped to prevent injury to screeners and handling personnel.
Buy your approved luggage from Amazon.

Related articles