---
From 1st January 2021 the rules has changed for EU citizens visiting, working or studying in the UK.! Newcomers need to apply for a Work Visa or in some cases a Student Visa.
Read more about it here
---
It is useful to know your working rights and obligations if you are working in the UK. See your entitlements for wages, contracts, paid holidays and sick pay here.
National minimum wage in the UK
The current minimum wage in the UK (April 2021) is:
Over 23 years: £8.91 per hour
21-22 years: £8.36 per hour
18-20 years: £6.56 per hour
Persons under the age of 18: £4.62 per hour
---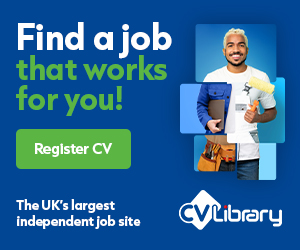 ---- Advertisement. ----
Are you looking for a job in London or in the UK?
Upload your CV at CV Library and start browsing amongst thousand of vacancies.
---
Payday can be weekly, 2 weekly, 4 weekly or monthly.
Your employer is obliged to issue you
a payslip for each payment that is made to you.
at the end of the tax year (5 April), a statement of income and deductions, called P60,
at the end of your employment, a statement of income and deductions to date, called P45.
Work Contract
Your employer should give you a terms of employment when you start your job. This is a description of Your Rights and responsibilities and should state:
Your duties
Your employment details and conditions including Company name, employee name, job role and description, start date, wages, paydays, hours of work and overtime, annual leave, work location, end date of contract (if temporary), pension and private pension contributions.
The company procedure if you wish to file a grievance
Company disciplinary procedure
Both employee and employer must follow the terms of contract until it ends. (e.g. by the employee or employer resigning from the job or the employee's contract being terminated)
---
---- Advertisement. ----
Order your free SIM card or find your ideal phone with a pay monthly offer at EE Mobile.
---
Working hours
Your working hours should be stated in your Terms and Conditions of employment. Your employer should not make you work more than 48 hours per week unless you have agreed to this in writing.
You are entitled to have a 20 minute break after 6 hours work. (Usually unpaid)
You should have at least 11 hours of rest between two working days.
You are entitled to have 24 hours rest per week, or 48 hours continuous rest days every two weeks.
If you are working a night shift (that includes at least 3 hours within midnight to 5am period) you cannot work more than 8 hours during a 24 hour period. For night shift the average working hours should not be more than 7 hours / night during a 17 weeks period.
Holiday / Statutory Leave / Annual leave in England
All employers are obliged to provide paid holidays for their employees, including employment/recruitment agencies.
Full time employees are entitled to 5.6 weeks of paid holiday that is 28 days per year. Part time employees are entitled to pro rata paid holiday every year.
Calculate your holiday entitlement if you work different hours weekly. The number of hours worked  x 12.07 : 100 : 8 = number of days of your paid holiday. (But maximum 28 days). The amount of your holiday pay is calculated by the average of the previous 12 weeks wages.
Bank holidays can be included as part of your annual leave but generally they do not count as paid leave. This will depend on the employer.
Your employer can decide when and how much holiday you can take at one time. It is advisable to find out from your employer how long in advance you need to request/book your holiday leave as this can vary greatly.
Statutory Sick Pay (SSP) in the UK
In case of falling ill, your employer is obliged to provide sick leave and sick pay, up to maximum of 28 weeks per tax year, provided that you, as an employee, meet the criteria for the entitlement of sick pay.
The first 7 days of sickness must be self-certified (no medical certificate needed) this is called Self Certification. Some employers have their own version of the Self Certification form, otherwise you can download it from the government website: Self Certificate
After 7 days a doctor's note (Statement of fitness for work) from your doctor should be presented.
If your illness occurs during your annual leave (holiday), you can decide whether you take sick leave for the days of your illness. In that case your annual leave days (holiday) will be given back to you for those days.
If you take sick leave, you may qualify to get £96.35 (before tax) every week with Statutory Sick Pay (SSP). You do not get paid for the first 3 days of sick leave. Sick pay is paid for working days only. To qualify for SSP you will need to (all must match):
Be classed as an employee and have worked for your employer
Have been ill for at least 4 continuous days (including non-working days)
Be earning £120 per week (before tax) at that employer
To claim SSP you should tell your employer (in writing if requested) that you are sick as soon as possible or within 7 days if they don't have a deadline.
You haven't been on sick leave for more than 28 weeks per year.
Able to present a Self Certificate for the first 7 days of sick leave and a doctor's note for more than 7 days of sick leave.
If you are not eligible for sick pay – SSP, or if your sick pay is about to end or already has, you might be able to apply for SSP Support. Your employer should provide you with the form, alternatively ask your local Jobcentre or download  form SSP1. To be eligible you should apply:
Within 7 days of you being off sick if you don't qualify for SSP
Within 7 days of your SSP ending (if it ends unexpectedly whilst you are still off sick)
Either on or before the beginning of the 23rd week (If your SSP is due to end before your sickness does)
Related articles:
Workplace complaints
Getting your National Insurance number
Finding a job in London
Preparing your CV
Job ads